I didn't mention this in the previous installment, but Donna and I went to the Fondation Maeght (a modern art museum and gallery in St. Paul) on Monday, but we weren't particularly impressed with it (no photos because we chose not to pay the photographers fee which was above and beyond the ticket price). There were two problems with the museum and gallery from my perspective: First, the museum was more focused on its architect than on the art (and all his buildings looked the same). Second…well, I don't share the Maeght's taste in art.
Anyway, Donna asked me what I wanted to do on Tuesday which was our last day in the Antibes/St. Paul/Vence area) and I said I wanted to see the Picasso museum in Antibes (because I'm more familiar with Picasso's work and actually like it). So, we drove down to Antibes to visit his museum (it was known as the Grimaldi museum while he worked there for six months in 1946).
But, that wasn't our first stop.
After we checked out of La Vague, we went to Vence because it was market day there. We wandered around a bit and decided to have a sandwich at a little shop before hitting the market for some snacks for the road.
We bought some cheese, dry sausages, bread and olives before doing some last-minute window shopping in this cute little town.
This was one of the market vendors' dog. One of very few we encountered that seemed to appreciate a little attention from a stranger.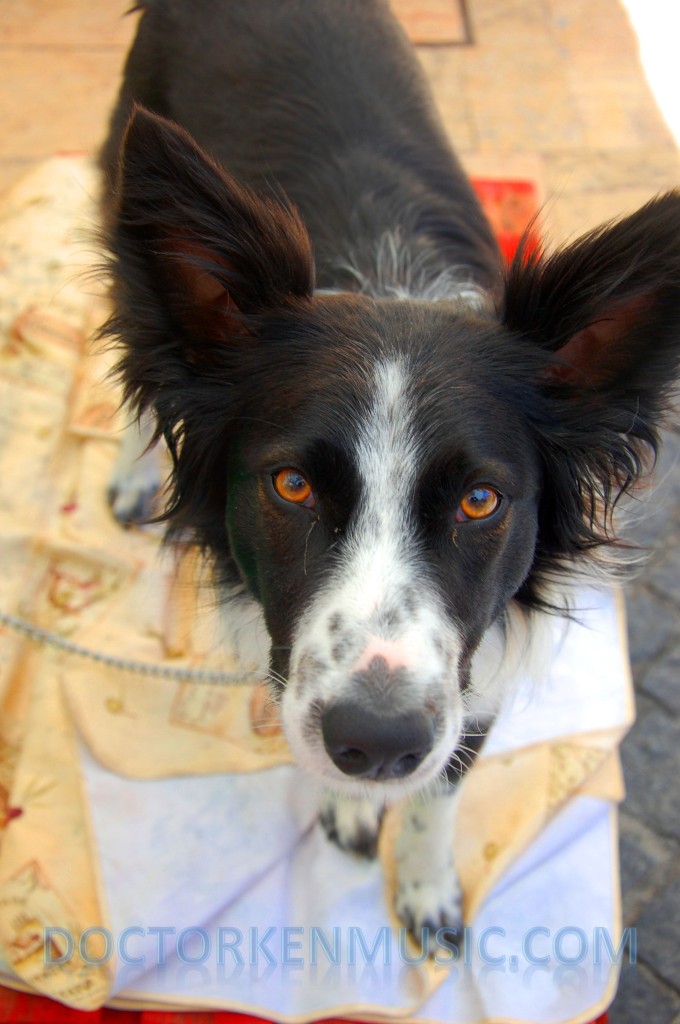 It was a hot day and just after lunch when we arrived at the museum in Antibes (which, of course, was closed during lunch-this is France after all). We stood in the sweltering sun in a long line of tourists wondering whether all this was worth it.
It was.
We couldn't take pictures inside, but the sculpture garden along the sea wall was fair game. If you have the opportunity, I'd recommend visiting the Museé Picasso (but avoid the crowd if you can).
I wasn't quite sure what to make of this piece. It seemed like a waste of a lot of guitars, but somehow, it appealed to me.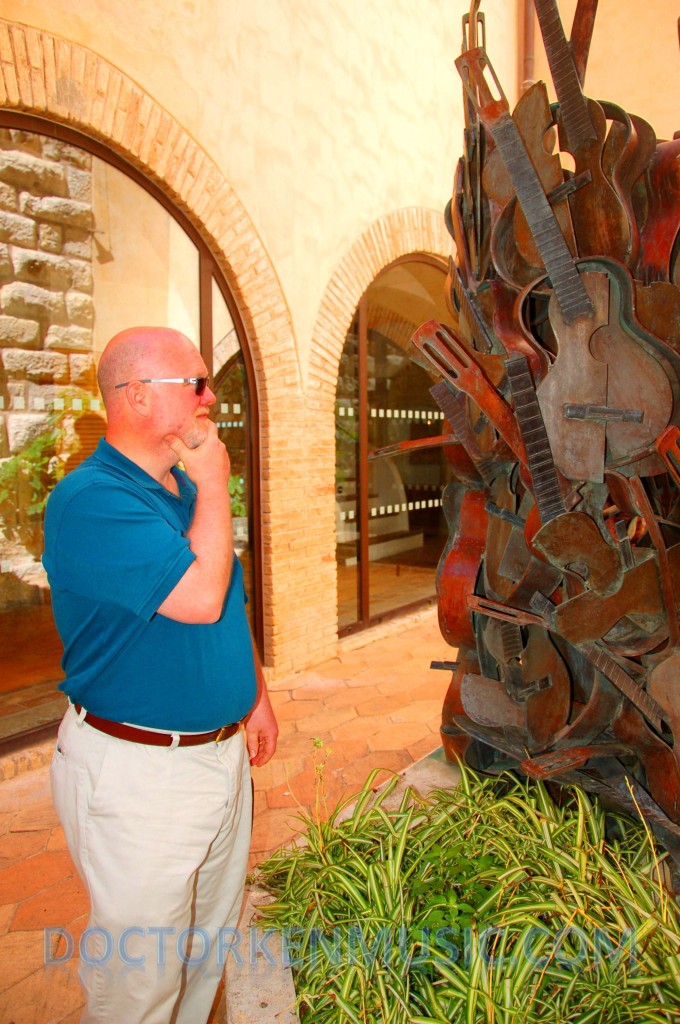 After the museum, we headed west along the coast across L'Estérel (one of three mountain ranges that cross France and reach the Mediterranean). We needed to reach our next hotel in Saint Aygulf and were short on time, but made a brief stop at Cap Roux for some pictures.
No one was really able to tell us the origin of these structures, but we were sufficiently fascinated that we tried to research it ourselves and it's still a mystery. Other than the lookout which was obviously more modern, they appear to be military structures from several different historic periods. The oldest were simple stone ramparts. Others were brick and mortar and still others were made of reinforced concrete more like WWII bunkers. I guess we'll have to come back and take another look at it when we understand what it's all about.
I conquered my acrophobia long enough to hop up on the wall and look down at the cliff face and the sea beyond (OK, that's long enough).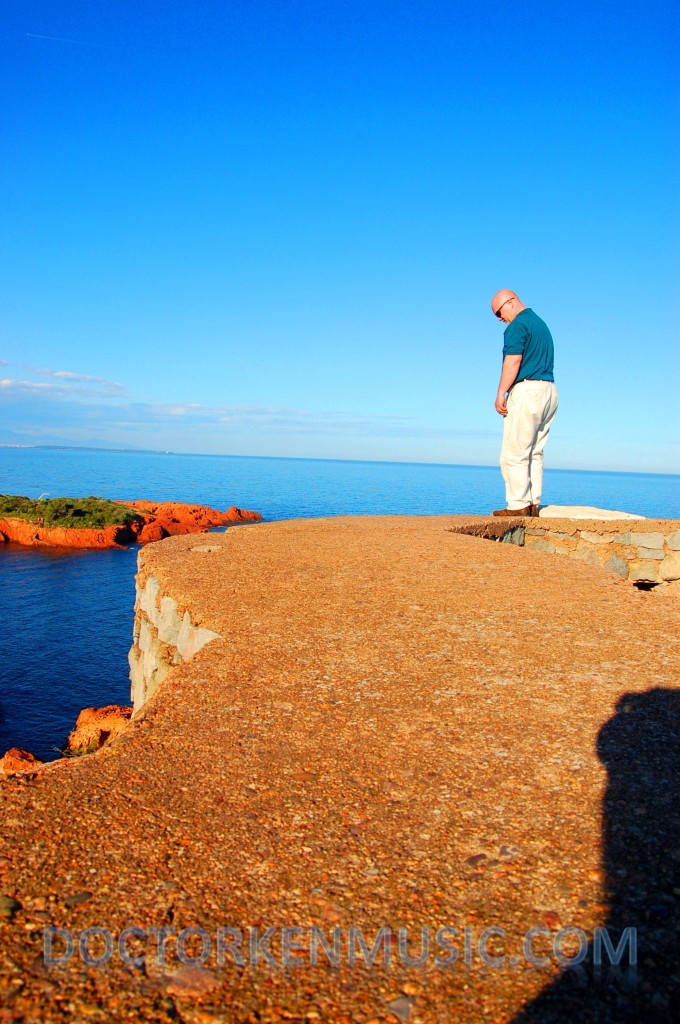 Off we went to Saint Aygulf and our budget-friendly hotel for a delicious, but low-budget evening meal on the balcony.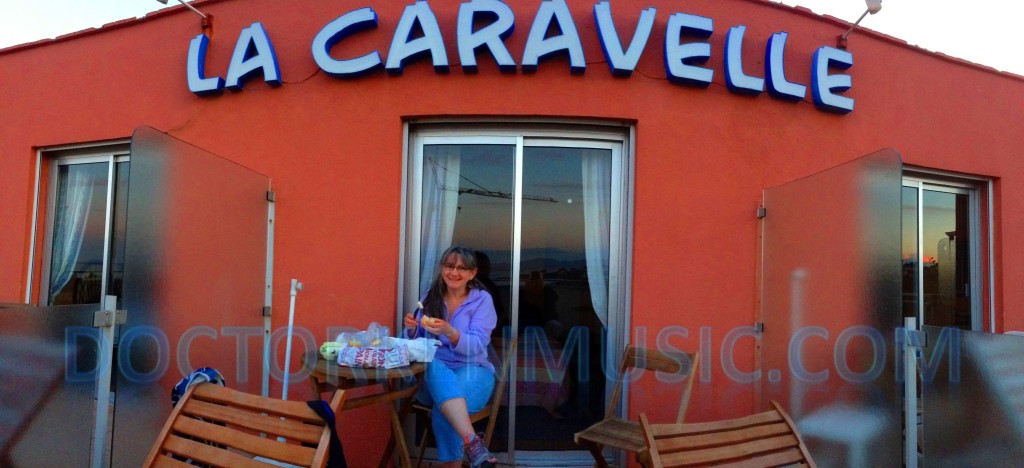 I posted this on my Facebook page before, but here again is the brochure-friendly photo I took from the balcony and then the wide shots to show the construction site across the road between us and the beach. C'est la vie.
BTW, notice that the top of the crane is pivoting freely in the wind. Apparently, the crew felt it unnecessary to lock it down for the night.
Despite my good-natured ribbing about the hotel, out hosts were very friendly and helpful and I would gladly stay there again.
Next time: Dawn and sunset in St. Aygulf, Roman ruins in Fréjus and Embarkation Beach.