Our host at La Caravelle suggested we drive down to Ste. Maxime and take the ferry to St. Tropez rather than drive around the bay and park the rental car in the more crowded city.
I'm really glad we took her advice. On the morning of May 1st, we drove down, parked at the marina and boarded the ferry to St. Tropez. It was a 15-minute trip across the narrow mouth of the bay, but would have taken an hour to drive.
Although we've been all over most of Southern France, neither Donna nor I had ever been to St. Tropez before. Oddly enough, this city which is synonymous with deep tans actually faces north, so it's not that easy to sunbathe there (now you know).
Donna snapped a few pictures on the ferry looking back as we left Ste. Maxime…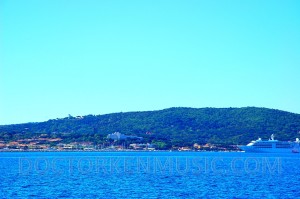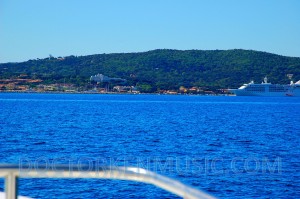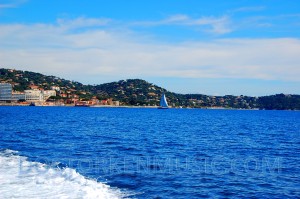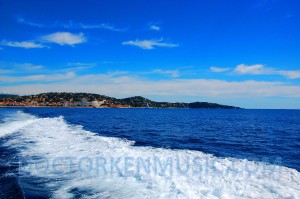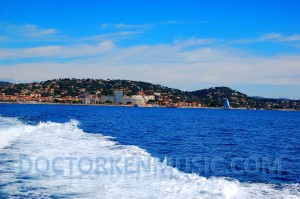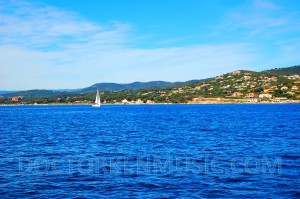 And then a few more as we entered the posh San Tropez harbor.
We love wandering through the markets in every town we visit and the fish market in San Tropez was especially awesome. I only wish we had a kitchen where we could prepare of this great looking fish!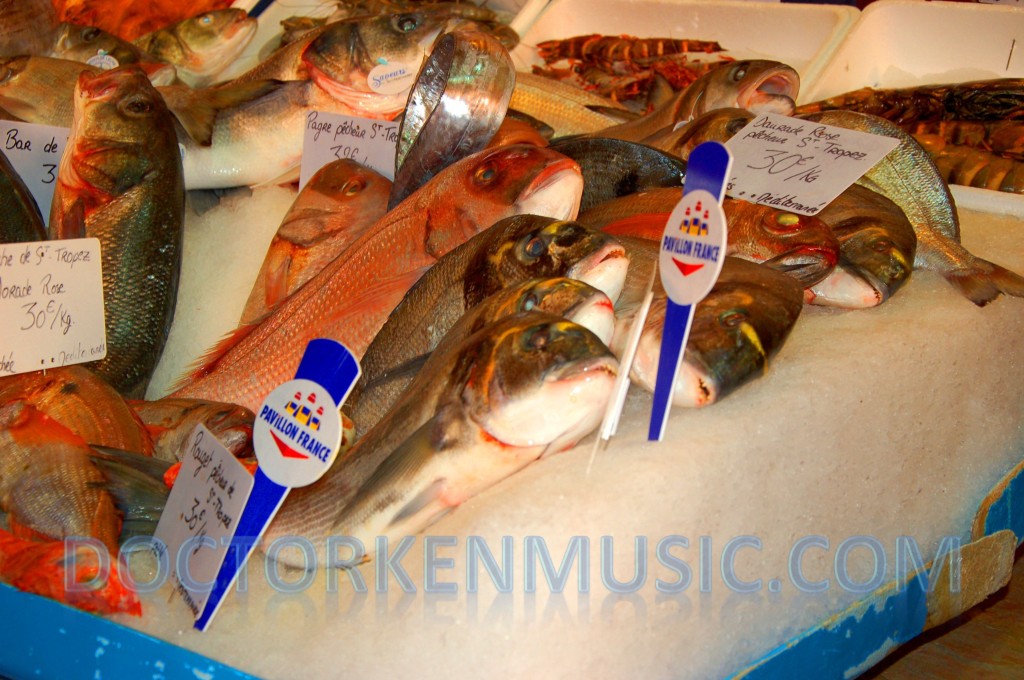 We picked up a city map at the tourist bureau and started on the self-guided tour, but it wasn't long before we felt like we were walking in circles looking at things that weren't as interesting as the map would suggest. Still, it's a beautiful town.
We decided instead to walk back over to the town park and grabbed a couple seats (and drinks) at a café near the pétanque courts (Restaurant La Ponche).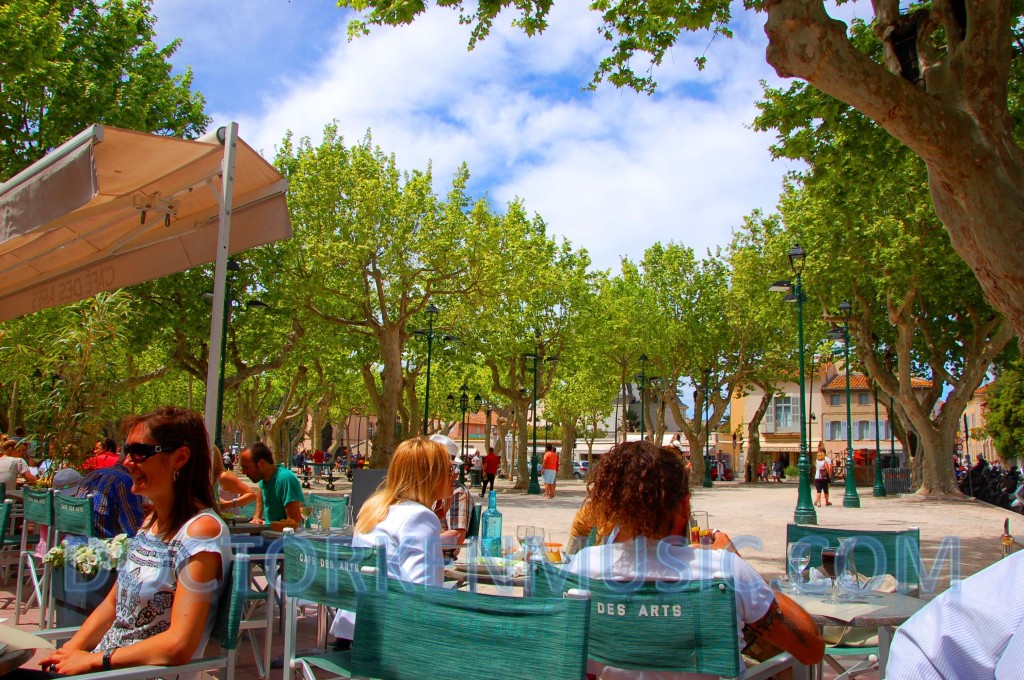 There was a tournament that day with 4 or 5 matches in progress and it seemed everybody on the street and in the cafés had their team shirts on. For the moment at least, we weren't competing so fiercely with the tourists for ice cream, pastries and souvenirs.
The panorama Donna took while I sat at the table (above) captured the young woman in white with the yellow bag multiple times as she walked past us. You can see her in the final image on the right with her back to us and on the left as a composite image showing her face on and in profile at the same time. Freaky.
We decided that the most entertaining thing we could do in San Tropez was people-watching. (Although the car watching was pretty good too.)
We took a few more pictures around town, but soon the heat got the better of us and we took up residence at an outdoor café right on the waterfront. It was expensive, but worth it to see the multi-national cast of characters pass by.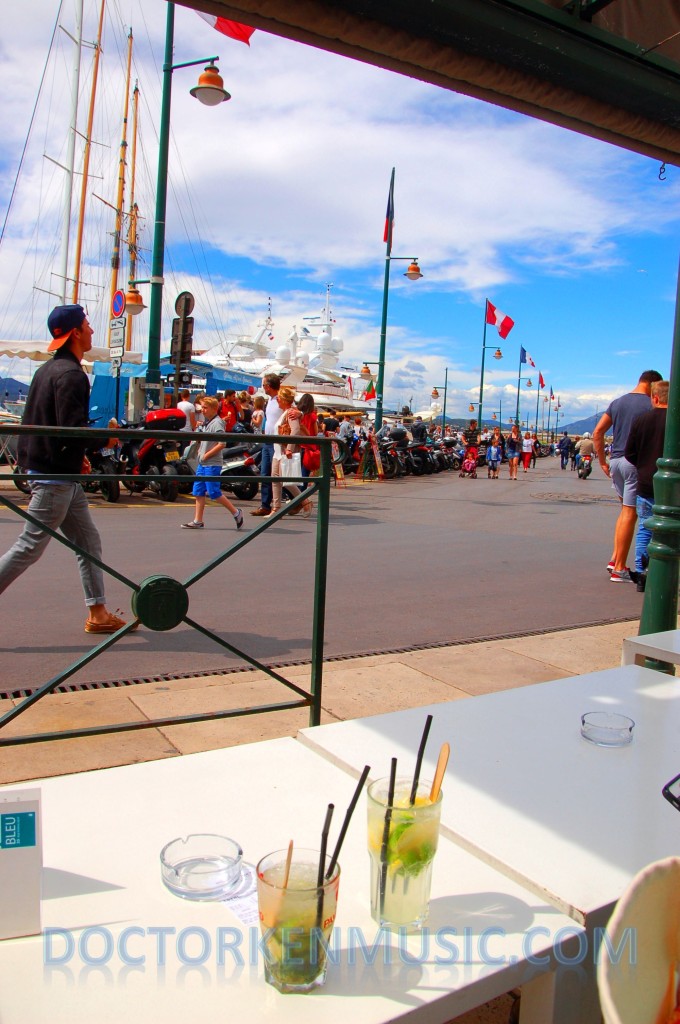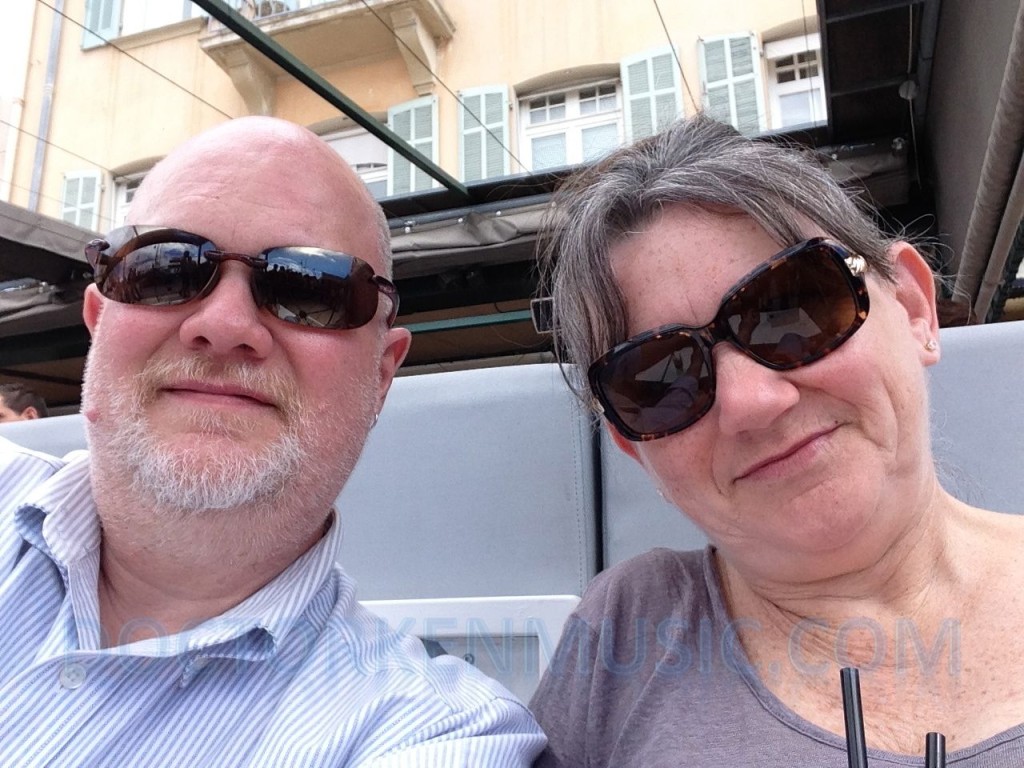 Once we had our fill, we headed off again in search of new adventures. We were struck by the vivid colors of the produce stand much like we were at the fish market earlier. How wonderful it would be to have such wonderful food available on your doorstep every day.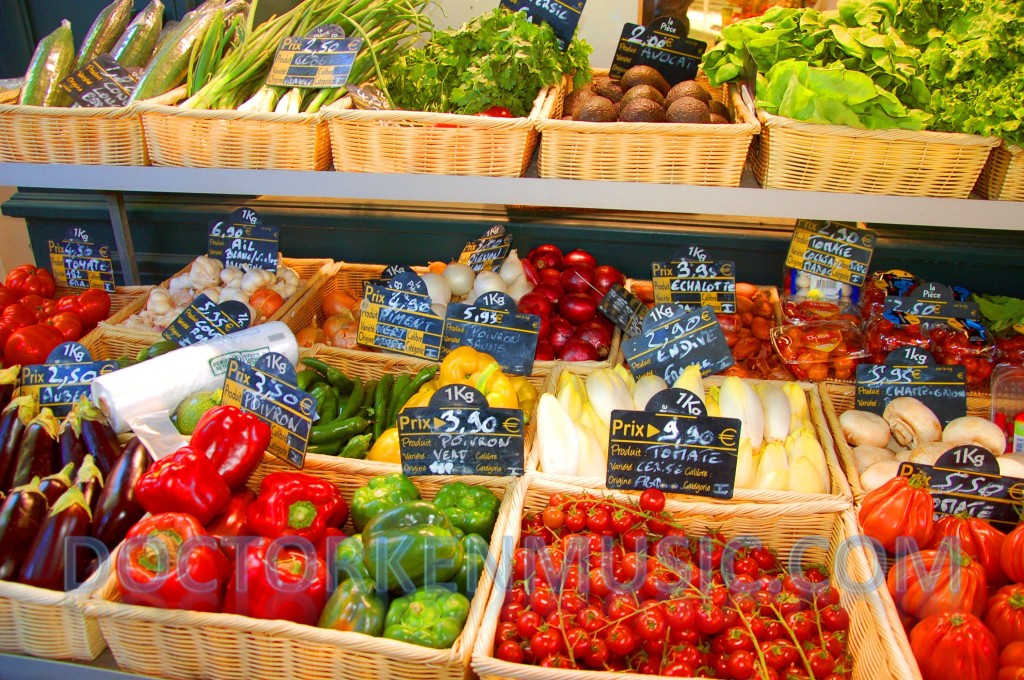 There was the requisite souvenir shopping of course, but to be brutally honest, the shops were so crowded, it was a real effort to shop there or even get some ice cream or a crêpe. We did make good on our goal of getting a San Tropez tarte (La Tarte Tropezienne: get one, it's worth it).
And then, of course, there are all the flowers….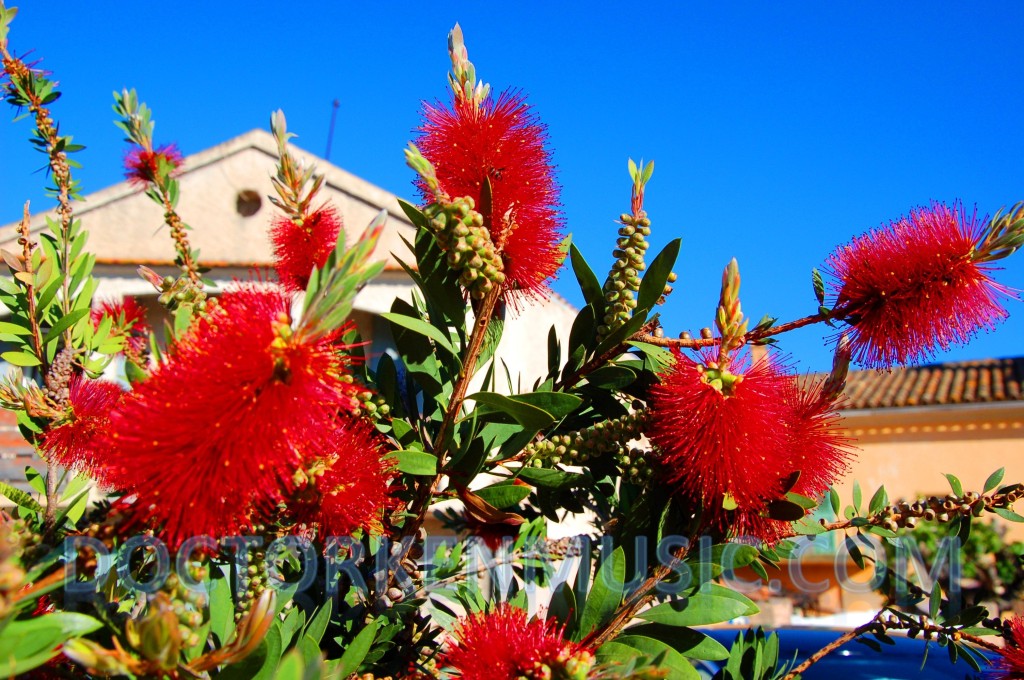 After exploring what seemed like the whole city (I really thought it'd be bigger than it was), we headed back to catch the next ferry to Ste. Maxime, but we were too late and had to kill some more time at (you guessed it) another café.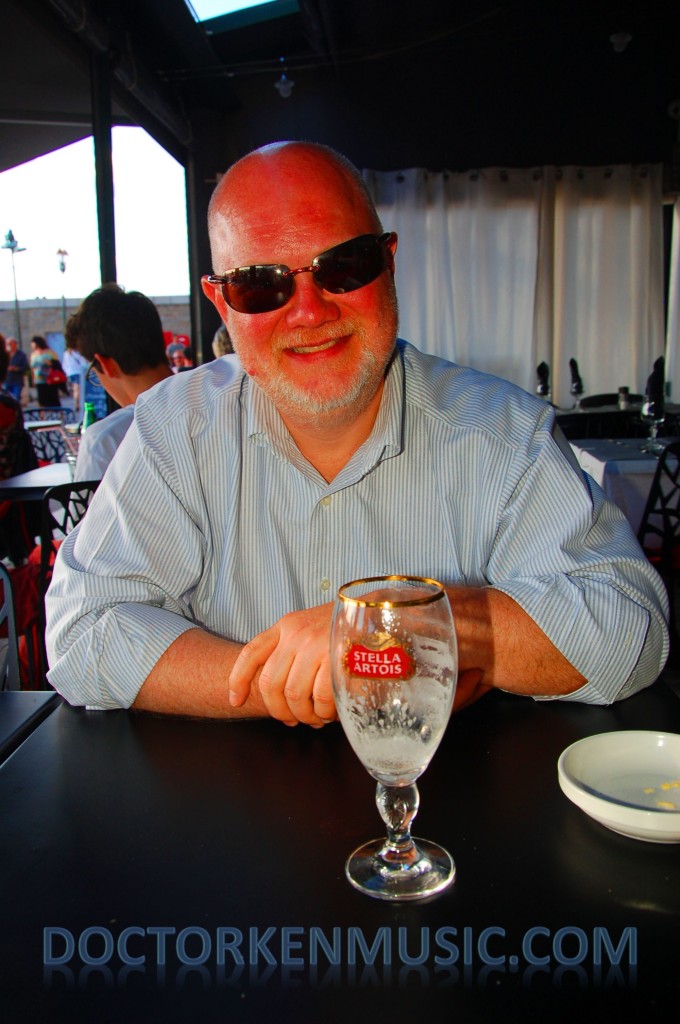 Since we were right at the marina, we boarded the ferry as soon as it docked, got seats up top in the fresh air and had plenty of time to take some more photos of San Tropez Port.
One of the boats in port looked particularly stealthy. We never did figure out what this boat's purpose was, but it certainly wasn't like all the other fishing boats around it.
Or the yachts.
The ferry pulled away from the port just as the sun was setting. It was a full day in the sun and we were both ready to head back and relax on the terrace.
Bye bye San Tropez!